Internet is flooded with false information on home security cameras. There are paid bloggers who writes content to satisfy google and internet giants but not to ease a home owner's life by legitimately giving right analysis. According to the internet Wireless security cameras are the best ever invention with regards to home security. Brands like Ring and Google Nest are considered to be the perfect solution. We completely disagree with this and so decided to write a blog on the real PROS and CONS of wired and wireless home security cameras.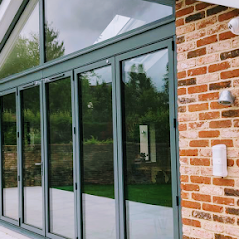 Slightly ignored CONS of wireless cameras
Battery Life
Yes, it's the battery. For 24/7 recording of video the equipment would definitely need power. Most of the wireless camera brands offer rechargeable batteries. Imagine you go up on the ladder every 3 to 4 months, unscrew and get the batteries down recharge them and put them back, doesn't bother the weather though. Studies suggest that people tend to use those fitted cameras less and they remain on the trees or up the wall just as a pretend deterrent.
Cloud Storage
Most of the wireless home security cameras doesn't have a local storage and offer cloud storage for a nominal monthly fee. The cost of storage can be somehow accepted if you are prompt in replacing the batteries on time. According to our home security camera experts, it is ideal to go for local storage with no monthly fee and contract.
Low price compared to professional, at home security camera
Yes, it is a CON to attract the population. Since it is a small amount they spend majority of the folk doesn't bother to get refund or replacement once the difficulty in usage is known to them. We often think it is better to ignore than to take the pain of getting the camera down, packing and sending it back for a petty refund.
Low resolution
These wireless home security cameras are nowhere near the 4K resolution offered by wired cameras.
Several Ring Alarm and camera users have reported breaches in their accounts that allowed a stranger to use the two-way communication to intimidate them. This is a risk every user takes when they use any internet-connected wireless system.
At home security camera brands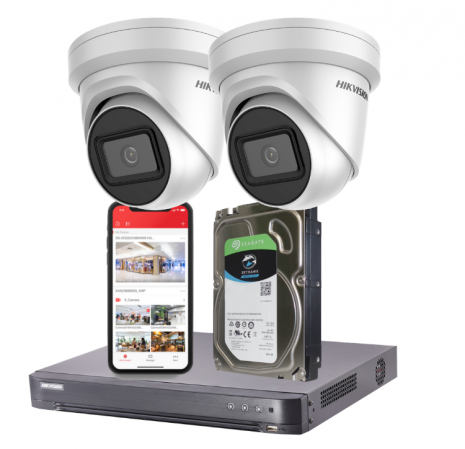 Some of the professional security camera brands that has been in the market for long run are the Hikvision and Dahua. Swann is wired but still considered a DIY home security camera. Both of them has been designed for domestic and commercial installation. You will find a range of resolutions that would perfectly suit your security needs. Each of them comes in different shapes and colours so you would be able to select the apt one to match your walls.
Hikvision home security camera with installation
Features to look for at home security cameras
While all the wired security cameras have most of the below features, the technology behind these might differ.
1. Smart Phone App for remote viewing
Most of the wired and wireless cameras offer smart phone App were you can watch the camera live or playback and download. Make sure you go through the App features before you decide on your home security camera.
2. Local storage or cloud storage
Choosing the right storage for your camera recordings is equally important. Professional installations normally include the hard disk and recording unit, mostly hidden in places that are not easy to find. This doesn't include any monthly fee. These local storages are configured to allow upto 30 days of motion only recording. Monthly charges and storage limit may incur for cloud storage.
3. Vandal Proof
Vandal proof security cameras are outfitted with metal housings to prevent the lens from becoming damaged when there's maltreatment or physical abuse. Vandal proof security cameras are an ideal way to monitor your property and record potential criminals in the act, without worrying about the lens being harmed. Many thieves, vandals, and burglars attempt to disable, damage, and destroy the camera with tough objects, so having a vandal proof camera is an important consideration to make. To ensure your cameras remain unharmed, install vandal proof security cameras for better, long-lasting surveillance coverage.
4. Image Resolution
Resolution directly affects the quality of the home security footage your camera produces. A clear image provides crucial details to help identify faces, vehicles and number plates. If you got a very large garden and would like to zoom in, go for an 4K camera.
5. Motion Activated Notification
Home security cameras offer motion alerts to help prevent break-ins. You receive notifications on the home screen of your smart phone when a camera observes movement. This is achieved by selecting areas that needs alerts. You need to be aware that the motion detection on security cameras are not as good as the Passive Infrared burglar alarm motion sensor. So it may send you alerts for wind, leaf and all sorts of movements.
6. Night Vision
Security camera footage at night is very important as it is the most favourite time from potential intruders. The distance your camera can see in low- to no-light situations impacts its effectiveness after the sun sets. Hikvision ColorVu is the latest addition to the best night vision cameras available in the market.
You need not consider the pan and tilt features unless you are trying to move the cameras field of view. Professional home security camera installation ensures that whole of your property is covered and is available for you to view on your smart phone App as and when required.
Final word
Professionally installed Hikvision is one of the high end security camera for watching over your home. Its wired, available in any resolution up to 8MP, wired and in dome, bullet and turret forms with local recording and smart phone App.
It's one of the most expensive security cameras you can buy, but there is no monthly charges and there are security companies out there offering split payments and finances if you can't afford to pay the lumpsum.
We do not want you to be another statistic when it comes to keeping your home and family safe.
A home security camera is just one part of protecting what matters. If you're ready for a complete defence against burglars, we would recommend burglar alarms, gates and intercom.
Security camera FAQ
What are the different types of security cameras?
There are indoor and outdoor security cameras that comes in different shapes, resolution and technology. The latest ones are the IP cameras. They are available from 1080P to 4K resolution. Bullet, dome and turret models are available and can be chosen according to your taste. Outdoor cameras are much resistant to weather and is IP67 rated
Are home security cameras worth it?
Home security cameras allow you to more effectively watch over your home. A CCTV camera in a highly visible location can make burglars think twice about attempting to enter your home. It can store information about burglaries and makes it easier for police to claim the loss in the unfortunate event of break-in.
Should I spend on professional installation?
A security camera is as good as the installation. Security cameras that are not installed to standards doesn't perform as expected. You might end up investing until you realise that the DIY system doesn't serve the purpose. Ultimately, it's your choice how much you want to invest for a certain level of security. It is wise to pay for installation rather than for monthly cloud storage services.
Internet data caps
If you have an internet data usage cap, make sure you understand how your security camera(s) could impact your monthly bill. You should also verify that your router can handle the extra devices and output.