How to choose cctv camera for your home?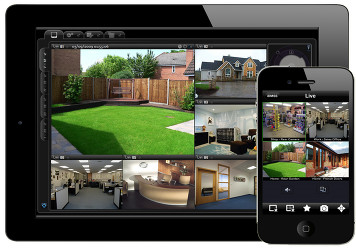 Below you find the expert advice from our security camera installer on choosing the right cctv camera for house. An outdoor security camera serves as your first line of defence against home intrusions. If you have a larger home, business or any other type of commercial unit, consider investing in an IP system to help keep you protected. We've unpacked some of the basics of CCTV surveillance cameras to shed light on few factors to consider before investing in a security camera system.
Try to buy the best value for money CCTV cameras within your personal or business budget. It's always wiser to invest in a good quality, small, entry level system that allows you to add more cameras later on if you are on a tight budget. The wire free camera's advertised as DIY are not really wire free as every camera needs power supply, with the exception of few running on batteries. Imagine, how long would the battery last if you are continuously recording on your mobile camera. Same is the case with a battery powered security camera.
Understanding the basics of CCTV cameras
When selecting CCTV cameras for house it's important to consider lens size, wide angle degree and amount of data storage. For every millimetre of lens size, the rule of thumb is that how far away in meters the camera will be able to view. The degree of a wide angle lens will determine the field of vision. As the lens size increases the field of vision to the left and right will decrease, while the range to identify straight view objects will increase.
Security cameras come with a range of data storage sizes from 1TB and the recording units in 4, 8, 16, 32 channels. The storage capacity can be increased by additional hard drives, or network attached storage devices to an unlimited capacity. If you go for a 5 camera CCTV camera for your house you would need an 8 channel recorder there by adding the total cost.
Type of CCTV Camera for House – Analogue, HD or IP
There are three types of CCTV surveillance cameras on the market, from the most affordable entry level analogue cameras to High Definition (HD) and Internet Protocol (IP) cameras at the top end of the market. Deciding whether to buy more affordable entry level analogue cameras, or if you should go with HD or IP cameras instead, depends on the quality of the image you desire and your present and long term security needs. A basic analogue CCTV camera offers a low resolution image suitable for detection of people and to monitor areas. An HD security camera provides a crisp high resolution image suitable for identifying numbers and characters, or for evidential recording for legal purposes. A High Definition camera can be analogue or IP and the zooming power depends on the resolution chosen.
A higher resolution CCTV Camera offers a far more enhanced picture, which makes it possible to zoom in digitally and retain image quality to identify subjects and details such as vehicle number plates. The benefit of zooming in is that this intelligence can be shared with police investigators and security companies.
IP cameras are connected to a Network Video Recorder (NVR) using a single Cat6 cable that also powers the cameras (POE , Power on Ethernet cables).
What you want your home security camera to see
Do you want the cctv camera for house to be able to see a vehicle outside the front driveway gate or monitor your door bell? While there is no camera that can perfectly mimic the dynamic range and depth of vision of the human eye, advances in technology provide solutions for dynamic range, 360 degree vision and the handling of different lighting conditions. It is recommended to invest on a quality night vision camera as security breaches often occur at low light conditions.
Among the top end IP cameras are the 4K Ultra-HD systems with their crisp images and amazing digital zooms to capture the details you need, even from a distance.
Where to place the cameras
Usually, the first camera is installed in a position such as near the front door or gate, to gather information about people or vehicles entering, followed by additional cameras to cover blind spots. One can go on the rear side to cover the garden and another one on the side alleyway if you have one. While choosing the position of the camera , you need to consider the reflex factor. If you intend to place a camera quite close to a surface that reflects light then it is more unlikely to be flashy at night as the IR lights would be reflected back to the camera, disabling it to capture the images it is intended for. A professional installer would be able to help you with identifying the right spots for maximum coverage.
Support lighting for your home CCTV cameras
Latest technology cameras promise to capture colour images even at very low lighted scenes. But in a normal scenario with non speciality cameras this wouldn't be possible. So it is worth investing in a motion sensor light to capture colour images at night.
Installation costs
Getting a security camera installed involves huge labour running cables from the recorder positions to each of the camera, fitting them at a suitable height and setting up the recording unit and mobile App. So it is worth considering these when calculating the total cost of your new home security system.
At Smartech, we have selected CCTV Packages to help you buy professionally installed security cameras online without any hassle.