Real smart alarms with camera sensors for visual verification
This review of Risco alarm is based on our experience and feedbacks received on installing Risco Agility and LightSys intruder alarms for home and business. We believe this helps end users in making the right decision in choosing their home and business security system. The wireless version of Risco alarm is the Agility one and wired versions popularly installed are LightSys and GT Plus.<br> Risco is the only top end alarm brand that offers internal and external camera sensors. You will receive picture messages on your smart phone App if any of these camera sensors are triggered. It is an excellent choice of for all houses, offices, warehouse, school and all commercial properties.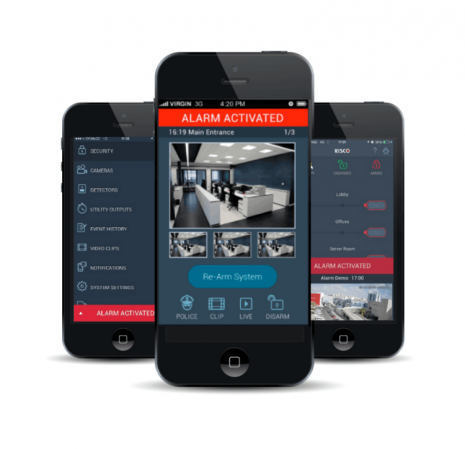 Installation
Risco is not a DIY system and requires professional installation. But electricians and DIYers are always welcome to try Risco installation with installer's manual, even though technical support would be minimal for non-registered installers.
Battery Life
Risco LightSys and GT Plus are hybrid alarms where it is possible to add wired and wireless devices. 1-way and 2-way communicating wireless sensors are available for wireless options. There is a rechargeable battery in the main control panel which has got a longer life span of 7 to 9 years. The battery in the two-way sensors sleeps when detection isn't required, so that battery power can be effectively conserved saving energy and money. Camera sensors can be activated manually to take pictures from your smart phone. However this consumes battery and with extensive use it might run out in less than a year or so.
Peripheral Devices
There are a number of additional safety and security peripheral devices which can be added into Risco security system. This range from shock sensors, motion detectors, camera sensors, smoke detectors, door contacts, curtain sensors, glass break detectors, roller shutter contacts and external camera sensors. .Anti-mask detectors are available for wired version that can detect if someone is trying to cover up the sensors to set the alarm off. Risco Lightsys and GT plus are our favourites for grade 2 , grade 3 and all wired and hybrid installations.
Pet Friendly
Efficient and reliable in pet sensing for pets upto 35 Kg.
Interface
It is possible to either set or unset the alarm by keying a pin number into the keypad, or alternatively by presenting a proximity tag or keypad or even by simply pressing the key fob.
Smart phone App
Risco alarms are smart and you can control and monitor remotely from your smartphone or tablet using the iRisco app. This means they can alert you, wherever you are in the world, if there is a security issue at home. This is a paid subscription and needs to renewed annually. At Smartech we offer Risco App renewal for £25 inc VAT.
Issues
The common issues reported with Risco alarm is the faulty sensors showing supervision failure. Faulty devices are quite common, but once installed, tested and working, Risco works like a charm. You may read product review by our customers here.