High end bespoke security alarm compatible with Smart Homes
This review of Texecom alarm is based on our experience and feedbacks received on installing Texecom intruder alarms for home and business. We believe this helps end users in making the right decision in choosing their home and business security system. Texecom sells both wired and wireless alarms, as well as hybrid versions of them. The Texecom alarm system is well reliable and comprises a wide range of panels that allows maximum flexibility for a bespoke security alarm. This is an excellent choice of alarm for all types of property including apartments, terraced, semi-detached and detached houses, offices, warehouse, school and all commercial properties.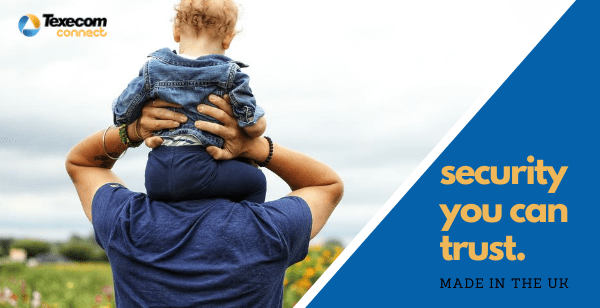 Installation
This is not a DIY system and requires professional installation. If not installed according to the standards, the intruder alarm will not function as expected and you would be disappointed with the performance. Texecom wireless alarm is built to work on ricochet technology where each sensor is part of a mesh network. So the sensors communicate with one another and then to panel. We wouldn't recommend a DIYer to design and install texecom wireless alarm for this reason.
Battery Life
For wireless version of Texecom alarm each of the devices in the system is monitored for battery life. You get informed as soon as the battery requires replacing. There is a rechargeable battery in the main control panel which has got a longer life span of 5 to 7 years. The battery in the sensors sleeps when detection isn't required, so that battery power can be effectively conserved saving energy and money.
Peripheral Devices
There are a number of additional safety and security peripheral devices which can be added into Texecom security system. This range from shock sensors, motion detectors, smoke detectors, door contacts, curtain sensors, beam detectors, glass break detectors, roller shutter contacts and external sensors. .Anti-mask detectors are available that can detect if someone is trying to cover up the sensors to set the alarm off. Texecom is best suited for grade 2 and grade 3 security system installations.
Pet Friendly
As a professional Texecom installer, I would not recommend Texecom for houses with larger pets. We had few customer complaints with respect to pet sensing.
Interface
This award winning intruder alarm features a 2 way wireless control panel which is very easy to use and control. It is possible to either set or unset the alarm by keying a pin number into the keypad, or alternatively by presenting a proximity tag or keypad or even by simply pressing the key fob.
Smart phone App
New versions of Texecom alarms are smart and you can control and monitor remotely from your smartphone or tablet using the Texecom Connect app. This means they can alert you, wherever you are in the world, if there is a security issue at home. The base version of the Texecom Connect App is free with no subscription fee.
Home Automation Compatible
Texecom is the only security alarm that can be programmed with home automation controllers like Control4 and Creston. So a smart home owner should definitely go for a Texecom security system.

Issues
The only issue reported with Texecom alarm is the false alarm triggers when pets that are more 25 kg are left alone at home. Since Texecom wireless alarm is based on ricochet mesh, this is not suitable for small installation. It works efficiently with large number of sensors in the mesh.